Now, there are many different types of bathroom sink faucets in the market. For ordinary people, decoration is a one-time event, and they are limit of the decoration knowledge, so they may feel amused when buying faucets. In fact, although the bathroom sink faucets have different types for the material, style and colors, it can be easily divided into two aspects:
First, according to the using function
We have three types of faucets according to the using functions, which is bathtub faucets, bathroom sink faucet and kitchen faucets which is usually called as 'three set' faucet.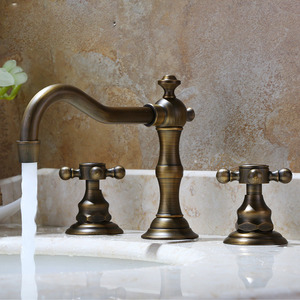 Second, according to the faucet structure
We also have three kinds with this aspect.
Single handle faucets: This type faucet has ceramic valve as seals which is more popular in the market, and has advantages such as flexible switch, convenient temperature adjust and long-time using. The price of this single handle faucets is upper middle class, suit for some economic conditions families.
Faucets with a 90-degree switch: This type also used ceramic valve, but is has improvement of changing the original rubber seal for the ceramic seal on the basic traditional two handle design. You can turn on the handle with 90 degree rotatable and has two handles for cold and hot water control. The features is convenient, the price of this type faucets is suitable for many consumers.
Traditional faucet of jack-screw stable and rubber-dense: It has large volume of water, the maintenance is simple; and the price is relatively low.
In addition, some imported faucets used stainless steel ball valve and spool, some of them even has water temperature adapter, but all of these faucets have expensive price.