In recent years, there are many LED faucet appearing in the markets. The water from this faucet can change the color according to the water temperature.
First, Working principle
LED faucet works is not complicated, mainly because tap built a small hydroelectric system, turn on the tap of the moment, LED will automatically light, surprising is that the whole process does not require a battery or other power source.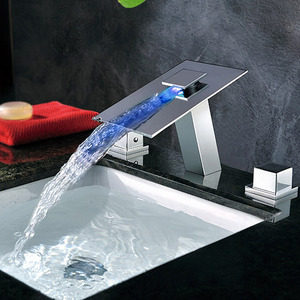 Second, what color
According to the water temperature changing, the water will change into blue, green and red three colors. When the temperature of water is above the 45 degree, the red color of LED faucet will shining which looks very beautiful.
Third, is it have any safe problems?
From its light-emitting principle, we know that the faucet is not connected to the power supply, and the current generated in the LED faucet working process is very small, do not worry about electric shock.
LED faucet to introduce this, we should all understand this device now.